Some of you might have noticed that in one of the previous releases of our plugin the list of custom attributes that could be selected when mapping attributes or creating filters and rules had become a lot smaller. We had done so in order to improve performance for our heavy-users, some of them have thousands of custom attributes which created some 'challenges' during configuration of product feeds (as in, extremely long drop-downs, pages getting stuck, etc). That is why we decided to only show custom attributes that are directly linked to products.
This however, looking-back, was not the best solution. Some of our plugin users informed us that they were missing crucial custom attributes and could no longer create the hight-quality product feeds they could before. We listened to this feedback and therefore pushed out a new release of the plugin that allows you to add those important (missing) custom attributes yourselves.
All you need to do is go to the 'Settings' section of the plugin, you will find we have introduced a new tab on this page called 'Attribute settings'.

On the 'Attribute settings' page you will see a list of all your custom attributes. All you have to do is to enable the ones you want to add to the default ones the plugin is already using.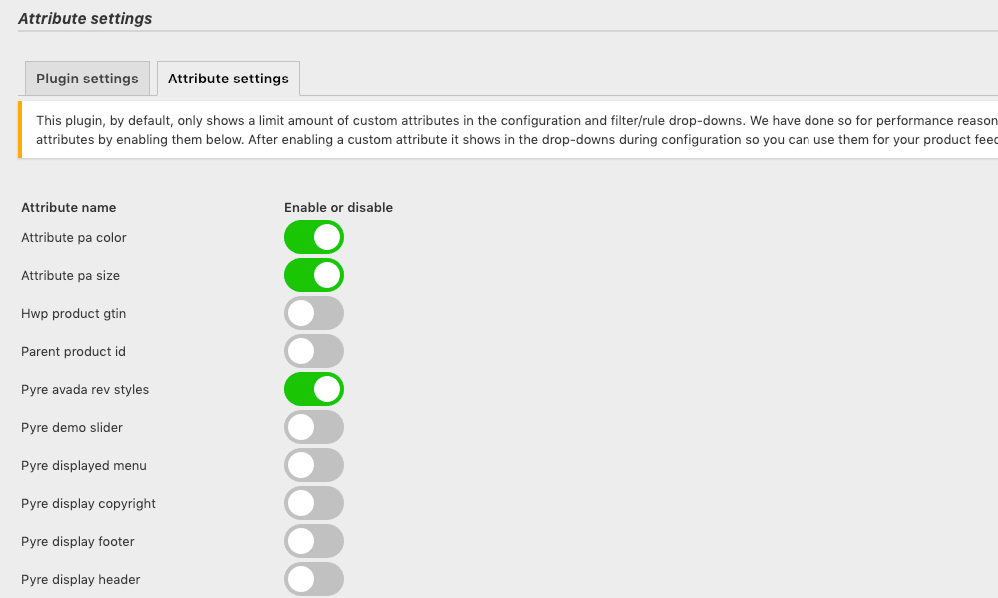 The attributes you enabled will now be active in all drop-downs you need to configure and optimise you product feeds. They can be recognized by the '(Added Custom attribute'):

All you need to do is upgrade the plugin to version 3.7.0 to be able to use this new feature.